Elite Beat Agents
"Elite Beat Agents" hits the right beats
Not a major fan of rhythm-based games.
Music tracks are usually a mixed bag, and the end goal of most just never felt satisfying.
That was the case until I played "Elite Beat Agents" for the DS. Engaging, inventive and innocently charming, "Elite Beat Agents" is one of Ninendo's most underrated IP that made me finally understand how fun rhythm-based games can really be.
A story through a song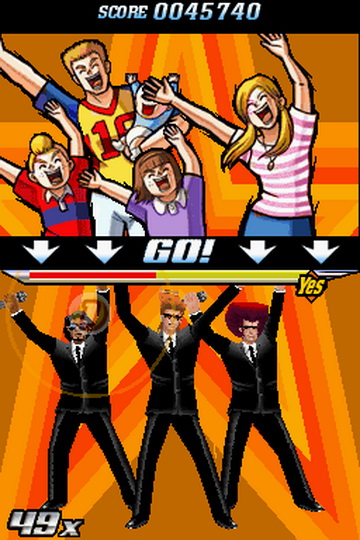 A group of secret agents must assist others in a number of situations through sing and dance. The player must tap circles as they appear on-screen in the correct sequence (1,2,3) and at the right time. Doing this through three phases of songs will determine whether the person (or animal) will make it through their dilemma via mock-anime style cutscenes. As a campaign, I thought the story translated the rhythm-based gameplay very well, and brought some stakes that I did not think were possible in the genre. I really wanted that cat to catch the baby wandering around a construction site. I really hoped that taxi driver would make the hospital for the pregnant woman in time. Much of the track list consisted some of more prominent hits of the 70s' thru 90s', including "I Was Born To Love You," "Canned Heat," and "You're the Inspiration." There are even some fairly good picks leading up to the 2000s' like "La La," "Sk8ter Boi," and "The Anthem." For those hoping to hear these wonderful tracks by the orginal singers, you will be completely disappointed as all songs are covers. However, I felt that much of the talent to perform these covers are still very admirable, and capture much of the spirit of the music. Not to mention that many of these songs just fit so well with the characters, settings and themes of each situation. With several difficulties to choose from, a total of 19 tracks and an addictive rhythm system to master, "Elite Beat Agents" is a great road trip game that will give you plenty of hours of fun. Side note: the multiplayer is great, even when one person just has a single copy of the game, which hopefully brings other friends to buy the game and experience all the other tracks.
Written by Jarek Martinez